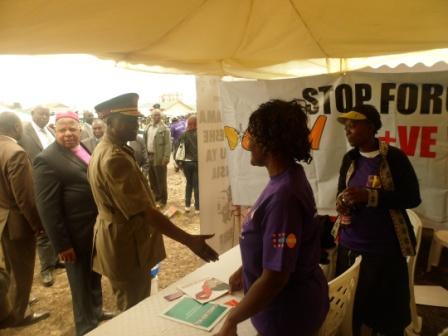 The sixteen days of activism against gender based violence is commemorated globally from November 25 to December 10th. Gender based violence takes various forms including physical violence, emotional violence, sexual violence and economic violence.
In Kenya the theme of this year's sixteen days of activism is "From Peace at Home to Peace in the Community" Partnering with the police to end gender based violence. The National Launch was held at Embakasi Sub-County, at the Deputy County Commissioner's grounds, lead by the National Gender and Equality Commission. The Event was officially opened by The Cabinet Secretary Ministry of Devolution and Planning and the Inspector General of Police who was the Guest speaker.
One of the key focus areas of African Gender and Media Initiative Trust (GEM), is Gender Based Violence (GBV). GEM recognises that GBV fuels HIV infections and prevents women from enjoying their sexual and reproductive health rights. In the study report "Robbed of Choice", GEM documented experiences of women living with HIV who have been forced and coerced into sterilization. This is a form of gender based violence against women living with HIV. Read more from the report.
As a way of amplifying the voices against forced . and coerced sterilization, GEM in partnership with Personal Initiative for Positive Empowerment (PIPE), had an exhibition tent on the venue of celebration to create awareness on forced and coerced sterilization. The event gave many women and organizations an opportunity to know this is a vice and a form of GBV. Particularly, women living with HIV and victims of forced sterilization were present to give their personal stories and bring the discussion in the public domain.